Insulin Pump Therapy
An insulin pump is a wearable medical device designed to administer insulin via an infusion set, which is inserted under the skin. Insulin pumps can provide greater flexibility for users,1,2 by automatically delivering small doses of rapid-acting insulin throughout the day and night ('basal'), based on profile settings entered by your healthcare professional. They can also be programmed to deliver additional insulin around mealtimes ('bolus') on demand.
Choosing the right insulin pump as part of your diabetes management plan can be a big step! Between deciding upon what features are important to you and your lifestyle, there are a lot of factors to consider. Your healthcare team will be able to assist you in choosing an insulin pump based on what features are best for you and your needs - whether that be integration with a continuous glucose monitoring (CGM) system, hybrid automated insulin delivery, touchscreen capability, water-resistance, rechargeable battery and more.
To help start your exploration into insulin pump therapy, we've compiled a short list of things to consider:
1. Your diabetes management, your way
Many insulin pumps have customisable features to tailor your diabetes management to what works for you. From editable basal settings ('Personal Profiles') and in-built carbohydrate calculators, to alerts and alarms designed to keep your glucose levels on track, it's crucial that your device has the features that you need. Some insulin pumps also have a selection of infusion sets available, with different tubing lengths and Teflon or metal cannulas, allowing you to select what best suits you.

2. Integrated technology
Some insulin pumps feature CGM integration. This means your CGM device can communicate with your insulin pump; show glucose readings, alert you when your levels are heading out of target range, and perhaps even deliver automated insulin corrections.
One such integrated system is the t:slim X2 insulin pump which is compatible with the Dexcom G6 CGM system. When Control-IQ technology is enabled on the t:slim X2 insulin pump, it becomes an advanced hybrid closed-loop system (when worn with Dexcom G6 CGM), adjusting insulin delivery automatically to ensure the wearers glucose levels stay within the desired target range.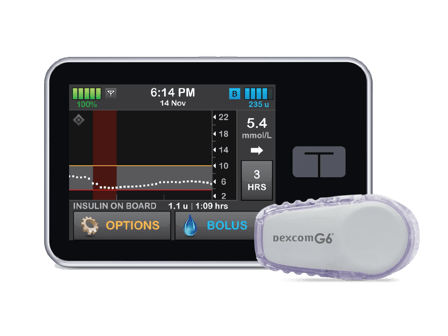 For many pump users, it's vital that these two technologies are compatible – so consider whether CGM will be a part of your diabetes management plan too.
3. It's a wearable device
Insulin pumps are designed to be worn by the wearer 24 hours a day year-round, so it's important that your device is aesthetically-pleasing, light, slim and comfortable. Have a think about how you would like to wear your device, whether clipped onto your belt, or tucked away in your pocket for example. Additionally, some pump models have accessories like pump cases and clips, allowing for more flexibility when worn.
4. The financial costs associated with pumping
Another factor to consider is the initial and ongoing costs of insulin pump therapy. Many individuals purchase insulin pumps via their private health insurance, however they can also be purchased outright. Most insulin pumps have a warranty of 4 years, after which time a new insulin pump may need to be purchased. In addition, although significantly subsidised by NDSS, it's essential to recognise the ongoing costs of consumables such as infusion sets, insulin cartridges and insulin. For more information on cost, we recommend checking in with your healthcare team.
5. Lastly, it's crucial to set realistic expectations about what insulin pump therapy can do for you
Insulin pump therapy can provide added flexibility, improved glucose control and greater quality of life for pump users,1,2 however it is also vital to understand that an insulin pump requires consistent input. From setting up the pump to inserting infusion sets and even interacting with the pump on a daily basis; incorporating an insulin pump into your diabetes management plan is a commitment that should be considered thoughtfully with your healthcare team.

Ultimately, there are a lot of significant factors to consider before committing to an insulin pump as a part of your diabetes care. As Diabetes Australia states "pumps work in the same basic manner but will vary in their specific functions and features."1 To help you make the right choice, we recommend speaking to your healthcare team so that you can start your insulin pump therapy journey on the right foot!
Get Involved
If you would like to have your say on life with diabetes, join our AMSL Diabetes All-Star Program by clicking here.
References:
1. https://www.diabetesaustralia.com.au/wp-content/uploads/Understanding-insulin-pumps.pdf, Accessed 10 June 2022. 2. https://baker.edu.au/-/media/documents/fact-sheets/baker-institute-factsheet-all-about-insulin-pumps.pdf, Accessed 10 June 2022
ALWAYS READ THE LABEL AND FOLLOW THE DIRECTIONS FOR USE. Read the warnings available on amsldiabetes.com.au/resources before purchasing. Consult your healthcare professional to see which product is right for you.
Last Updated: 24th June 2022