Dispelling Myths about CGM and Insulin Pumps
Being emotionally prepared to use new diabetes products is just as important as learning how they work. With the rapid development of diabetes technology, it's common to sometimes feel overwhelmed about the change in management, as well as the amount of data new technologies can provide.
However, new technologies can also offer the potential of improved diabetes management, less manual work through automation, and continuous awareness of your levels.
One of the first steps to being prepared for new technology is eliminating these initial concerns. Rest assured, AMSL Diabetes is here to provide you with the support you need as you transition.
Myth #1: "CGM alarms are too noisy and will negatively affect my day-to-day."
Your alerts and alarms are your Continuous Glucose Monitor's (CGM) main form of communication with you, and we understand that they can sometimes be overwhelming.
Dexcom G6 CGM offers complete customisation of your alerts and alarms*, allowing you to adjust how and when you want to be notified, so you can stay focused on what you love doing most. These include the new Urgent Low Soon alert, helping you to be in the know when you are predicted to go low in the next 20 minutes, as well as fully customisable Low, High, Rise and Fall rate alerts and more.
The new Alert Schedules feature allows you to customise two groups of alerts in a 24 hour period (e.g. day and night schedules for maximum flexibility).
*Speak to your healthcare professional before changing your alert settings. They can help you find the best settings to manage your diabetes without getting too many alerts.
Myth #2: "Wearing an insulin pump all day is very constricting. Won't this impact my lifestyle?"
Transitioning to an insulin pump can be a great way to remove much of the manual work from your diabetes management, but it can also be a daunting concept at first.
The t:slim X2 insulin pumpTM now with Basal-IQ technology, has a slim and sleek design, allowing you to carry it with you conveniently as you go about your lifestyle - in fact, it can even fit in the coin pocket of your jeans! It can also hold up to 300 units of insulin, meaning less cartridge refills.
The t:slim X2's ultra-strong, durable design also means you don't need to be constantly wary while carrying it around. It features an IPX7 waterproof rating, tested in 1 metre for 30 minutes, so you don't need to worry about it accidentally getting wet.
Additionally, Tandem infusion sets offer a variety of cannula lengths, materials, insertion angles and techniques to meet your unique needs and suit your lifestyle. Speak to your healthcare professional to learn more!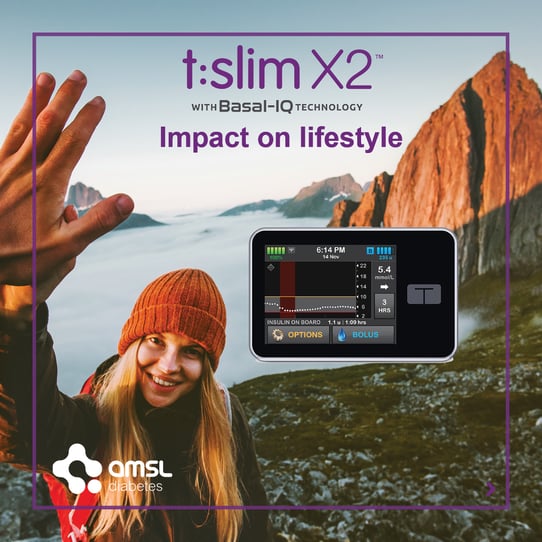 Myth #3: "I'm just not tech savvy enough for a pump."
While putting faith in the technology of an insulin pump to help you manage your diabetes is understandably a big adjustment, the benefits of increased flexibility, improved blood glucose levels, the ability to help prevent lows and increase time in range1, and improved quality of life1 mean it may be a worthwhile investment.
The t:slim X2 insulin pump was designed with user feedback in mind*, with a large, colour touchscreen, similar to a smartphone, making the pump easy to learn and easy to use. In fact, 97% of t:slim X2 pump users said it was easy to use!2
*6,000+ interviews with people living with diabetes, their families and support teams.
Additionally, the Status Screen, easily accessible from your pump's Home menu provides a snippet of all your key data, all on one screen, so you can easily stay in control and take action as required.
The t:slim X2 insulin pump offers up to 6 different Personal Profiles, with up to 16 time segments each, allowing you to adjust your individual basal rates, insulin-to-carb rations, correction factors and more based on your lifestyle, so you can spend less time worrying about lows and more time living your life.
Still uncertain? AMSL Diabetes offers a series of in-depth online training modules to ensure new customers get off to the best possible start. Our 24/7 Australian-based technical support team is also available to aid you at any step in your journey.
1. Brown SA, Kovatchev BP, Raghinaru D, et al. Six-month randomized, multicenter trial of
closed-loop control in type 1 diabetes. N Engl J Med. 2019;381(18):1707-1717. 2. Brown, S. Clinical acceptance of the artificial pancreas: Glycemia outcomes from a 6-month multicenter RCT. 2019 ADA 79th Scientific Sessions, San Francisco, CA.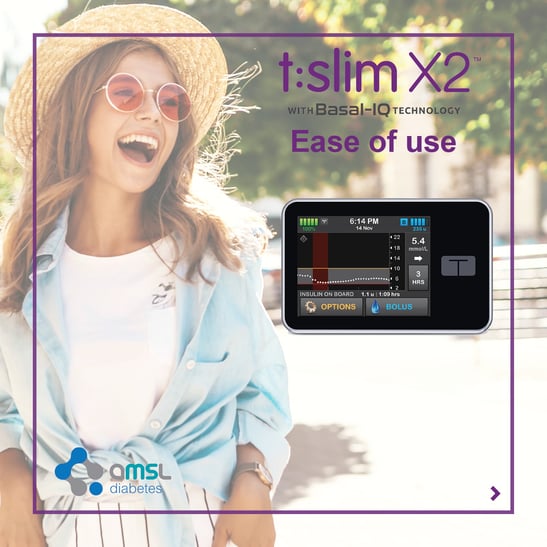 ALWAYS READ THE LABEL AND FOLLOW THE DIRECTIONS FOR USE. Read the warnings available on amsldiabetes.com.au/resources before purchasing. Consult your healthcare professional to see which product is right for you.
Last Updated: 6th April 2022